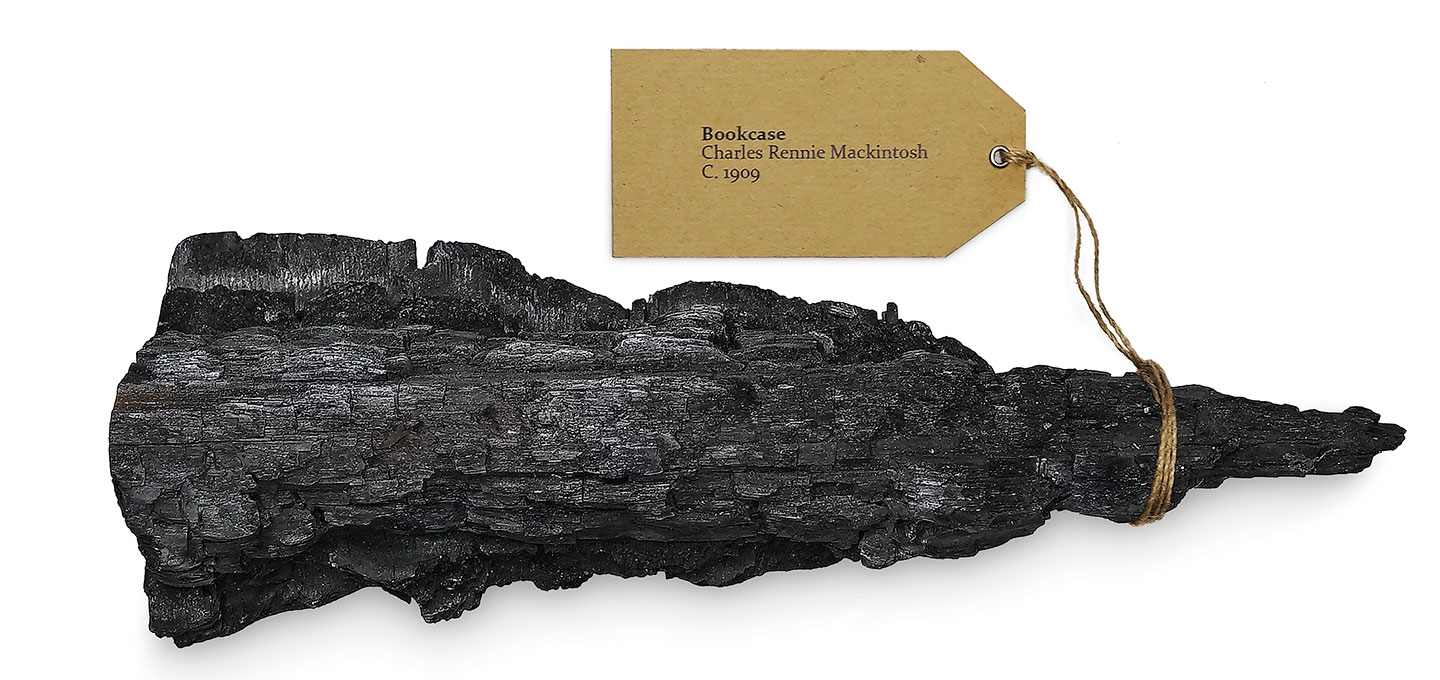 The aim of the project was to help the Mackintosh Building to - literally - rise from the ashes. Creative agency, J. Walter Thompson London approached The Glasgow School of Art with an idea: to ask artists to turn ash from the fire into art. Their artwork would then be auctioned to raise funds and publicity for the restoration of the Mackintosh Building. The School immediately gave the proposal their full backing.
"We received many offers of help, but this seemed by far the most original."
Alan Horn, Director of The Mackintosh Campus Appeal
Debris was salvaged from the Mackintosh Library and sent to participating artists. The chunks of charred wood were given poignant context and identity by an attached label which read 'Bookcase. Charles Rennie Mackintosh. C. 1909'.
The artists, including seven Turner Prize winners and two recipients of knighthoods, came from a variety of disciplines and backgrounds, reflecting the international importance and influence of the Mackintosh Building on those who studied there, and further afield.
"The Library was talismanic for the School. The grief at losing it was felt by all of us. It's a great idea to use the charcoal of a burnt art school as a drawing material to make art, and fund the rebuilding. Charcoal represents a rite of passage from school to art school. It's a perfect cycle, the phoenix rising from the ashes."
Tacita Dean, Hugo Boss and Kurt Schwitters Prize winner
By reinterpreting the charred by-products of the fire as media for drawings painting, printmaking, photography and sculpture, the artists created a diverse body of work.
The calibre of the artists, combined with the stature of the School and the significance of the Mackintosh Building, attracted the heavyweights of the international auction world. The resulting sale, at Christie's London on March 8th, raised a total of £706,438.
"This superb roster of internationally-renowned artists have produced an inventive, diverse body of work spanning across mediums, that reflects on the Mackintosh Building's destruction with gravity and wit in equal measure."
Leonie Grainger, Director Post-War and Contemporary Art, Christie's